About Us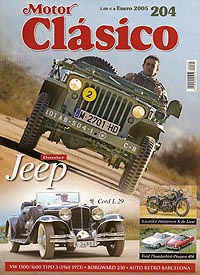 SIGNAL CORPS is the trade name I have used since 1997 to patiently handcraft restore more than 25 military vehicles and 4WD classic vehicles.
Every restoration pursuits two main objectives:The first is mechanical reliability, that allows the owner of the vehicle to enjoy it with the maximum safety, fruit of a conscientious and deep review of all mechanical components of the vehicle, while respecting, as far as possible, its originality.
The second, and not less important, is to obtain the original proper aesthetics of the vehicle's time and army that, along with a close attention to the detail, will provide a restoration of premium quality.
The historical loyalty over any other consideration was guaranteeing at the moment of the restoration perfectly ended.
I can realize total or partial restorations according to the needs of every client as well as the location of vehicles, refills, accessories, manuals and the manufacture of pieces. Also I restore all kinds of accessories related to the military vehicle; fire weapons of collection, equipments of radio, tows, artillery units, etc.
Later you can see some of the restoration finished, different restorations at which I am working at this moment as well as someone of my next projects.
Vicente Durán Monmeneu